Essex Air Ambulance Adult 24 Hour Carp Match 2014 - Braxted Res 30/31st August
With the online booking system going live in June and selling out in just two minutes and nineteen seconds, it just shows how much of a demand there is for the 24hr Carp Match within the club.
It was good to see that most of the teams was early for the draw with plenty of banter flying about. The exception of "Pasty Power" Last year's winners turning up last in the dyeing minutes.
The draw was announced at 9 am which left some teams rubbing their hands and others not so confident! Everyone set off to their Peg's other then the exception of Eddie marsh who managed to topple over his brand new and over loaded mobility craporter, which gave everyone a cheer.
While his team member decide to leave him behind.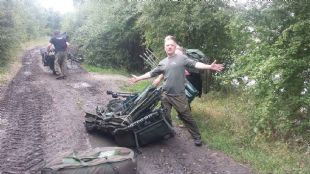 Everyone was in place for 10am for the 1st whistle to Bait up and Mark out there swims. To my surprise most of the teams sat on their hands and only baitted lightly other than peg 12 "Basildon Bombers" which was spoding heavily. With everyone sitting patiently for the 11am whistle to sound the leads started flying in.
It didn't take long for the 1st fish to be landed by "It's not terrys its mine" followed shortly after by "Tea Baggers" and then by "Basildon bombers" it was quite clear to see that most of the fish activity was in front of these 3 teams. Team "Tea Baggers" landed a 21.1lb common all thoughts was on who would have the biggest fish. After suffering a huge crack off team "Its not terrys its mine" landed a 23.7lb common. Thinking they was in line for the biggest fish the smiles was short lived as a few hours later in the dead of the night with camera flashing going off in peg 9 team "Bang Tidy" Lewis Harsent landed patch the biggest fish in the lake at 28.11lbs also a new PB for Lewis. With the biggest fish prize taken everyone settled down for the night, thinking who would be in the runnings for the top 3 prizes by morning.
As morning came 8 teams had landed fish. It was very close for the top 3 places with "Basildon Bombers" in the lead after a busy night. One fish could of tipped it either way from 1st or 2nd as team "Tea Baggers" was just 12lb off the lead. 3rd place was being closely contested by "Pasty Power", "Shake and bake" and "It's not Terry's its mine" as the 3 teams only had only 13lb difference between them. Only 1 team that had flight left in them was "Basildon bombers" who landed the only fish on Sunday which confirmed they 1st place.
| | |
| --- | --- |
| 1st Basildon Bombers | 122.13lb |
| 2nd. Tea Baggers | 94.1lb |
| 3rd. Shake & Bake | 62.4lb |
| 4th. Pasty Power | 58.8lb |
| 5th. Not Terry's its mine | 49.9lb |
| 6th. Nash Cooper | 32.4lb |
| 7th. Bang Tidy (Biggest Fish) | 28.11lb |
| 8th. Team Torrix | 19.8lb |
| 9th Noddy & Me | 0lb |
| 10th Noddy & Noddier | 0lb |
| 11th The Pink Popups | 0lb |
| 12th Flukey Fishermen | 0lb |
I would finally like to take this opportunity to thank a few people for there support and help with this event.

Paul Bocking & Ian Stokes for behind scenes work with land owner and to be able to hold the the event at the Braxted Rez.
Barry Davis for all the PR work with the sponsors and the online booking system.
The marshals, Lee Kennett, Gareth Spary, Spencer Plair, Phill watts, Paul Bocking, Without these guys giving up there weekend this event wouldn't of happened.
A massive thank you to our sponsors for the seconded year running, Simon Mullins @ specimen angling, the guys over @ dt bait developments. Your continued support goes a very long way in making both the junior & the 24hr matches get better and better each year
Look forward to seeing you all next year I might even cache one ;)
Lee Goodchild